This article needs cleanup!
This article probably doesn't meet the style guidelines, and therefore needs some work. General cleanup needs to be done to improve this article.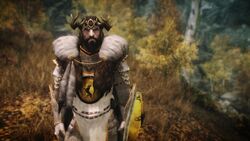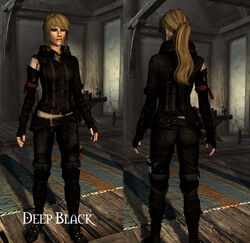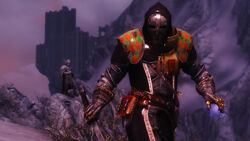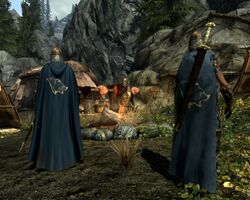 Armor, Attire and Jewelry (Skyrim) is a category of mods that add either armor, clothing, jewelry or change certain aspects of the already existing pieces in The Elder Scrolls V: Skyrim and/or The Elder Scrolls V: Skyrim Special Edition.
Apparel
[
]
Cloaks and Capes

Dwemer Goggles and Scouter

- Gives special abilities

Face Masks of Skyrim

Haladoon's Goggle Variations

Scarves of Skyrim

Winter is Coming - Cloaks
Jewelry
[
]
Better Circlets HQ (Unavailable)

Real Engagement Rings
Armor
[
]
Heavy
[
]
Light
[
]
Armor Packs
[
]
Artifacts - The Breton Paladin

 - Includes a full armor set in heavy or light versions with two helmets, a sword, a mace, & a ring

Artifacts of Nocturnal

 - Includes a cowl and a bow

Arturia Pendragon's Armor and Dress

Bosmer Armor Pack - Inspired by the Bosmer race

Custom Clothing Armors With Dyeable Linens

Draugr Hunter Armor

Glass Stalhrim Weapons and Armor

Gondor Armor - Inspired by Lord of The Rings

Royal Red Ritter Armor

Immersive Armors - A very large collection of armors from across the Skyrim modding community

Nedhegoth The Butcher

 - Includes a helmet, a warhammer, two swords, a bow, a kukri, & a machete

Nordic Gold Carved Armor

Seratic Armor - Comes in three colors and heavy and light variants

Skyforge Shields SSE
Armor Pieces
[
]
Haladoon's Dark Brotherhood Shield
Armor Enhancements
[
]
Belt-Fastened Quivers

Immersive Artifacts

Lootification - Allows enchanted versions of weapons and armor added by many mods to appear as loot where appropriate
Clothing
[
]
Retextures/Remodels
[
]
General
[
]
Bethesda Performance Textures - Armor - Clothes - Weapons
Armor
[
]
2K Dark Brotherhood Gear Retexture

2K General Tulius Armor Redone

2K Heavy Imperial Armor Redone

2K Imperial Light Armor Retexture

2K Imperial Shields Retexture

2K Penitus Oculatus Armor Redone

2K Priest Masks Retextured

2K Retextured Ring of Hircine

2K Ring of Namira Retextured

aMidianBorn Blades Armor

aMidianBorn Imperial Light and Studded

aMidianBorn Stormcloak Officer Armour

Another Clavicus Mask HD

Auriel's Shield HD

CC's HQ Guard Shields

Dark Brotherhood Armor HD

Deathbrand Weapons and Armor Replacer

- Black armor, Colored swords

Dragonbone Armor and Weapons HD

ESO Nord Armor - Rustic Edition

 (Requires ESO Nord Armor)

Frankly HD Miraak

Frankly HD Stormcloak and City Guards

Grim Chitin Armor

LH's Imperial Shield HD Retexture 2K

Light Refracting Glass Armor and Weapons

Lord of Bears - Special Edition

 (Requires Immersive Armors)

Masque of Clavicus Vile HD

Nightingale Prime HD

Perfect Legionnaire - Imperial Legion armors

Red and Gold Dwarven Weapons and Armor

Red and Silver Elven Weapons and Armor

Refracting Stalhrim Armors and Weapons

Rustic Forsworn

Semi-Open Guard Helmets

Thieves Guild Armor HD Revival

Ugly Bonemold Retexture

Vanilla-friendly Spellbreaker Retexture
Jewelry
[
]
Aeterna Rings

Barenziah's Glory

Gemling Queen Jewelry

Jewels of the Nord

True Circlet Gems
Clothing
[
]
Elaborate textiles

Nocturnal Robe HD Remaster

Rustic Clothing